I hope you are well? (...)
Now question for you - what are your thoughts on Brogues or Oxfords? I
adore the way they look, but being 5'2", a little curvy and with legs
that really aren't skinny I don't see myself pulling these off!! I
want painless style (is there such a thing?) and practicality without
ugliness in the London winter.
Any tips at all would be much welcome. My ballerinas need a break. And
I feel like spending some money.
Speak soon, Shu
.

Hey Shu!
Being 5'4" with short stumpy legs, and more curves than the drive along Amalfi Coast, I must admit brogues are not for me (oxfords on the other hand...are more my cup of tea), although I see their cool comfort appeal as this season's hottest footwear trend...
Unfortunately, the fact is that while flat shoes may feel fabulously comfy, they often look unflattering on us mere mortals (as opposed to long legged skinnie minnies such as Agyness Deyn and Alexa Chung - with their twiglet legs), with a thickening effect on our calves and ankles...
Having said that, it does not mean that we

cannot

wear them (where would I be without my comfy ballet flats), but for those of us not blessed with legs up to our armpits, there are tips to minimize flats making us
appear
overly short and stumpy.



What to wear oxfords/brogues with:



Brogues
work best when worn with bare ankles, cuffed/cropped/rolled pants or slim/baggy jeans with a simple tee,
pretty summer or floral dresses with or without blazers, ...
This you can do because the wonderful thing about brogues – apart from being flat, comfortable and not ballet pumps – is that they disguise 'robust' ankles
...

How to wear oxfords/brogues:
1. Wear oxfords/brogues in a tan or nude colour to elongate your legs (with hosiery-free legs, best worn with short shorts or skirts, so not really for Winter...).
The color palette is neutral and cool, but makes you appear effortless and sophisticated.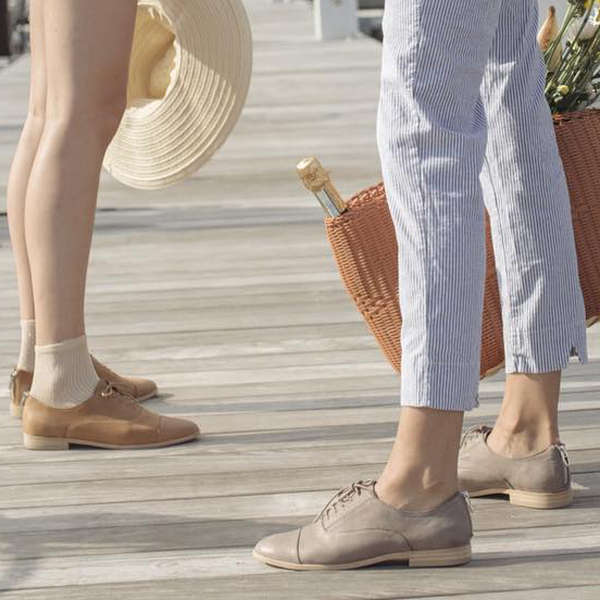 2. Cuff your pants. Cuffing the pants (or wearing cropped pants) not only allows you to show off the shoe itself, but also, if shows off your ankles, which gives it a more feminine appeal, otherwise your feet may appear a bit clownish.
3. Brogues/oxfords also look great with shorter dresses/skirts/shorts. A feminine dress looks great paired with a simple cardigan, oversized blazer
, coat or jacket.
4. A patent or brightly coloured pair, adds a touch of femininity to this 'masculine' pair of shoes, as well as a adding interest to the outfit...The patent shoe is also great to team with 'warmer' textures (wool, fur, etc)...
5. Wear opaque stockings or knee/thigh-high socks of the same colour as your brogues/oxfords. This is, once again, to elongate your silhouette (and also to keep you warm, I highly recommend Falke Merino Wool Soft Touch tights for London's Winter...these kept me
so
warm during my recent trip to Japan)
(click to enlarge)
6. If you find that all the above still do not make for a flattering silhouette, you can opt for brogues with a slight chunky heel (I say slight, as I see you are opting for 'painless style')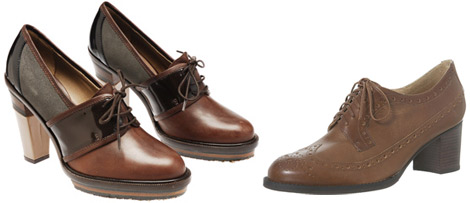 Hope these 'tips' are of some help, Shu (my sister E is staying with me and says 'hi'). If anyone out there wears brogues and/or has any tips on how to wear them, please feel free to share!